Chris Pye's Books
Contents
Woodcarving Tools, Materials & Equipment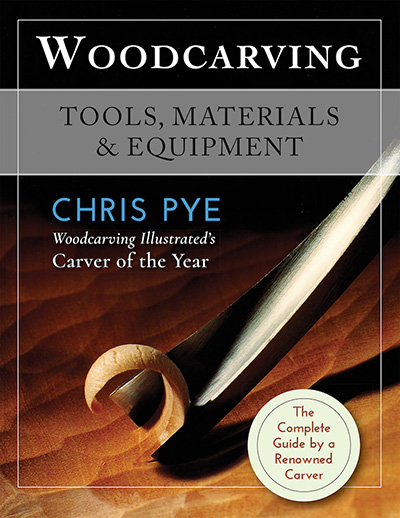 First published in 1994, this book by Master Woodcarver Chris Pye still remains the outstanding go-to reference for woodcarvers working with traditional tools. Jam-packed with information about the craft of woodcarving, this well-illustrated guide covers all you need to know about the tools of the trade.
Covering a wide array of carving challenges such as proper clamping technique to the strengths and limitations of tools, expert Chris Pye offers a wealth of information and answers to your questions in this complete primer. Filled with nearly 700 photographs and line drawings, each page features detailed instructions and information.
Topics covered in this extraordinary volume include:
Basic woodcarving tools

How to sharpen tools

Woodcarving accessories

Safety tips

Modifying devices

How to properly hold tools

Creating a workspace

Finishing products
Whether you're an experienced woodcarver or just getting into woodcarving, this essential guide is one you'll want to refer to again and again.
Chris describes in detail methods of holding your work safely, with plans for several useful appliances that readers can make for themselves. There is also a section on wood itself, and how to make the most of its many
Echo Point Books
ISBN: 9781635618143 (Paperback)
Purchase
Relief Carving in Wood: A Practical Introduction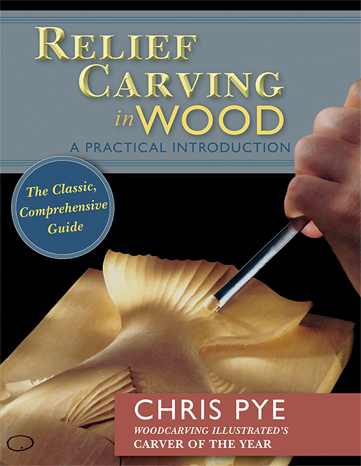 This is a unique book for woodcarvers: Rather than provide a large number of projects, Master Woodcarver Chris Pye walks you through one design, digging deeply into the process of relief carving. By pulling apart a single subject, Chris clearly demonstrates how both low and high relief carvings 'work' and how to go about carving them.
Follow this book step by step and you'll learn about the tools and how to handle them properly; and practise fundamental, transferable carving skills such as 'lining in', lowering and levelling backgrounds, and 'setting in'.
With such a repertoire of carving techniques under your belt, beginners will be well underway on the woodcarving path and more advanced carvers will tackle future projects with more flair and confidence.
This book brings together techniques Chris developed and taught annually for 20 years at the Centre for Furniture Craftsmanship in Maine. As Chris says, "The fish, as such, is irrelevant. It's all about mastering the tools and techniques of good carving. Indeed, I reckon that if a student has really absorbed the contents of this book, they'll have 90% of the skills I have. The rest is experience and developing a sense of three dimensions."
Echo Point Books
ISBN: 9781635618105 (Paperback)
Purchase
Letter Carving in Wood: A Practical Course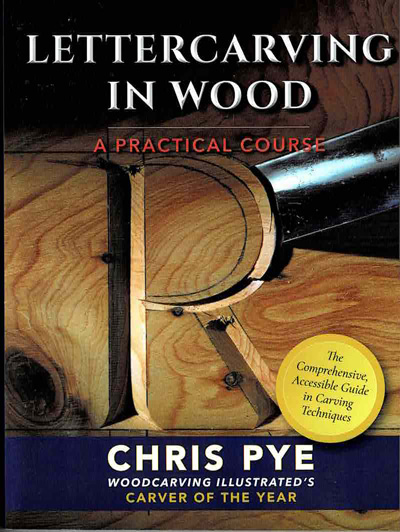 Letters are everywhere and lettercarving in wood is a tremendously useful skill for a carver to have: from memorials to signing work; from decorating bowls to house signs.
This book from internationally renowned woodcarving instructor Chris Pye will teach you fundamental lettercarving skills with which to creatively add words or text to an otherwise plain piece of wood.
At the heart of this book lies a well-tried, structured course. Starting with essential tools, lettercarving techniques and step-by-step exercises, Chris provides easy-to-follow instructions for creating incised and raised alphabets in a variety of styles from Roman to Celtic and Gothic.
More advanced carvers will find information on specific aspects of lettering design, such as spacing, colour and letter-family resemblance.
All these aspects are brought together and the process of lettercarving illustrated by nine, detailed projects, including: simple signs; decorative lettering on a bowl; lettering on a breadboard a name stamp and a small table.
So, whether you're new to the lettercarving, looking to refresh and refine your skills or add a personal touch to your carving, this illustrated guide to the craft from Master Woodcarver Chris Pye will instruct and inspire.
Echo Point Books
ISBN: 9781635619041 (Hardcover) | 9781635618150 (Paperback)
Purchase
Chris Pye's Woodcarving Course & Reference Manual:
A Beginner's Guide to Traditional Techniques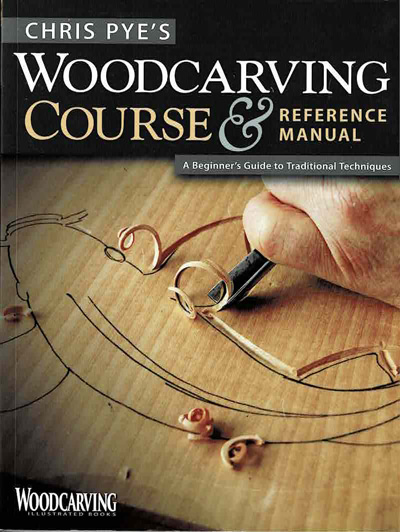 The first step into a new craft can be overwhelming: Where to start? What tools to buy? What projects to begin with?
Chris Pye's guide is filled with everything a beginning woodcarver needs to know. You'll learn what to look for in a workbench; the importance of 'commissioning' your carving tools - there's more to it than just sharpening! - how to choose the best woods; safe tool handling tips, making cuts; how to make exacting cuts, and execute a variety of techniques. Chris includes practice exercises to make you comfortable with the tools and techniques so you can build your skills and carve with confidence.
Master Woodcarver Chris's conversational teaching style and careful step-by-step instructions will encourage you:
CONTENTS:
Introduction

SECTION I: CARVING TOOLS AND SETTING UP *Technical Mastery
Chapter 1: Tools of the Trade
*Your Tools are Your Carving
Chapter 2: Commissioning Your Carving Tools
*Understanding Wood
Chapter 3: Supporting Cast

SECTION II: USING CARVING TOOLS
*Getting to Grips
Chapter 4: Handling Your Carving Tool
*Thin Edge of the Wedge
Chapter 5: The Outcome of the Tool

SECTION III: EXERCISES *Good Habits
Chapter 6: Simple Moldings
*Surfaces, Lines & Junctions
Chapter 7: Veiner and V-tool

SECTION IV: RELIEF CARVING
*Form Into Space
Chapter 8: An Exercise in Setting-In
*Over the Horizon
Chapter 9: Low Relief
*A Touch of Drama
Chapter 10: High Relief
*Feel the Form
Chapter 11: Pierced Relief

SECTION V: CARVING IN THE ROUND
*Entering Chaos
Chapter 12: In the Round: Baseball Cap
*Making It Up as You Go Along
Chapter 13: In the Round: Wren
Fox Chapel Publishing
ISBN 10: 1565234561
ISBN 13: 9781565234567
Purchase